Robert Wolfe, Bob, and I (Mark) had dinner together in December of 2011. At this time, Robert gave Bob an inscribed copy of his new book, One Essence. Usually Bob and I share new nonduality books, and quite quickly. Even with chemo going on he is still a quick read when he wants to be, and I knew he wanted to read Robert's new book right away.
.
To my surprise, which began to move to consternation over the weeks, it didn't show up. For over a month I asked, "Bob, what about Robert's new book?" Usually he said something like, "It's really good. I'm re-reading it." Then he'd ask me a question about something else.
.

Finally, with much of the winter already past, and much haranguing on my part ("Uh, Bob, rather than reading Robert's book, you could spend some time writing your own...." and such) the book appeared on my desk. "I told you that you'd get it," said Bob.
.
"That was last year!" I said, but I was smiling. Just scanning the first few pages I could tell that One Essence was a Master work. The next day I said to Bob, "The Wolfe Man nailed it! It might even be better than his first book!" Bob agreed.
.
Yes, you are right. I still have it. I keep it hidden from Bob or I'll not see it again for months....
.
One Essence is pure nonduality. It is golden. It is clear pristine nonduality put down as well as it ever could be in words. Hui Neng and Robert Wolfe make a great team indeed.
.
You can get your copy of
One Essence
here
.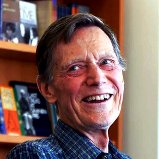 Robert Wolfe
More about Robert Wolfe is on the Two Classics + page,
including links to his Biographical page on his own website,
and information about his other books, including the wonderful Living Nonduality.
A special treat, Zen poems by Robert, can be found here.